The precise location of Scone Abbey had long remained a mystery, but in July 2007 archaeologists pinpointed the location using Ground Penetrating Radar (GPR) technology, Scone Abbey's structure was revealed to be larger than had been imagined and the exact location was found to be in what is now a garden area in front of Scone Palace and Moot Hill.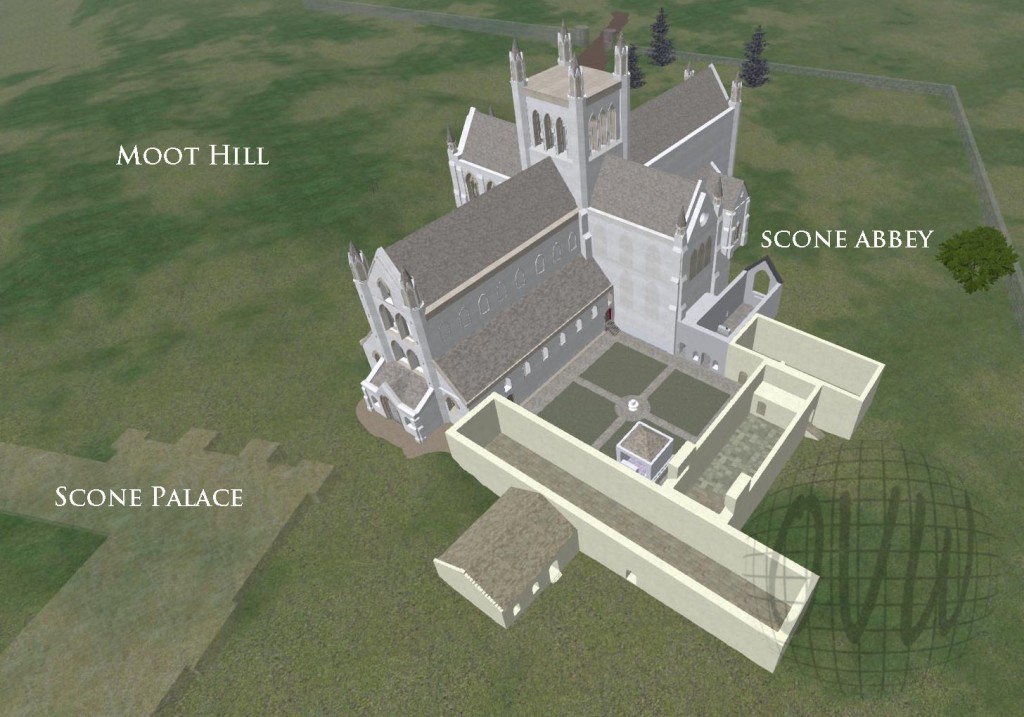 Using the data gathered by archaeologist Oliver O'Grady and working with historical experts Prof Richard Fawcett and Prof Richard Oram we created a 3D virtual model to help us better understand the Scone Abbey site.
This reconstruction is part of the larger project entitled 'Royal Scone: parliament, inauguration and national symbol'.   Professor Richard Oram, project leader and Professor of Environmental and Medieval History at the University of Stirling said: "Despite Scone's importance in Scottish identity and Scotland's history, there is currently limited understanding of the site, the function of its components, and the nature of the activities undertaken there.  This project will assemble a network of researchers in archaeology, architectural history, legal and political history – including representatives from Historic Scotland – to develop a wider and more accurate picture of what royal Scone was like."
In 2007 Dr O'Grady conducted archaeological research on the site of Scone, which revealed most of surviving ground-plan of the medieval abbey church and also the original form of the Moot Hill royal assembly mound and its enclosures. He explains, "This project is a great opportunity to cut through all the myths surrounding Scone and create a new informed account of Scone's place in our national story and international heritage sites."
Founded between 1114 and 1122 Scone Abbey was a house of Augustinian canons located in Scone, Perthshire, Scotland.  Originally named Scone Priory, its status was increased in 1163/64 to Scone Abbey.
The abbey had important royal functions, being next to the coronation site of Scottish kings at Moot Hill and housing the Stone of Destiny (until it was taken away by King Edward I of England).
Scone Abbey was, in the words of King Máel Coluim IV, "the principal seat of our kingdom", and as such, the abbey buildings surrounding the cloister would be residences of the Scottish kings.
In 1559 Scone Abbey was destroyed by a mob from Dundee in the early days of the Reformation.